Arthur Merric Bloomfield BOYD (b.1920; d.1999)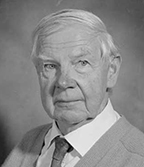 Arthur Boyd was born in 1920 in Melbourne, to the famous Boyd family of practicing artists. He was the son of potter, sculptor and painter, Merric Boyd and brother of David and Guy, both of whom had successful careers.
He grew up amid the smell of linseed oil and paint, painting from when he was old enough to hold a paintbrush.
Arthur Boyd attended night classes at the National Gallery Art School, Melbourne, and painted with his grandfather, well known artist Arthur Merric Boyd. His innocence was shattered with the outbreak of World War 2 when he was conscripted into the Australian Army.
His early works drew on his war-time experiences and his travels through central Australia and Aboriginal communities. They come from personal experience, reflecting family relationships, values and religious beliefs, and symbolise human passions such as love and aggression, good and evil.
He believed art should serve a higher purpose and raised issues such as the treatment of mixed-blood Aboriginals and Australia's involvement in the Vietnam War.
Arthur Boyd was part of a dynamic generation of Australian artists and thinkers which included Sidney Nolan, Max Harris, Albert Tucker and Joy Hester.
After returning from overseas in 1972, he bought a property, Bundanon, on the Shoalhaven River and rediscovered the Australian landscape that would preoccupy him for the rest of his life, creating breathtaking works recognised for their brilliant use of colour.
Before his death, he gave his beloved home to the Australian people as a refuge for artists and musicians and an education centre and gallery. He died on 24 April, 1999, knowing the place he loved so deeply would be enjoyed by generations of people to come, providing the creative impulse for future artists.
Additional information