Kevin Charles (Pro) HART M.B.E. (b.1928; d.2006)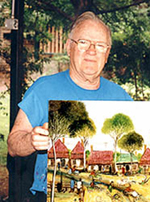 A walk through Pro Hart's three-storey gallery in Broken Hill shows he is more than a "brushman of the bush" and leader of the outback painting movement. He holds a magnificent private collection, where works by John Percival and David Boyd hang side by side with John Constable.
"I think the international painters are just as important," says Pro. "It's good to see good Australian art mixed in with it."
He also loves to collect vintage cars, is an A grade pistol shooter, and invents machines. He owns and plays the largest Rodgers Electric Pipe Organ in Australia, and sculpts with welded steel, bronze and ceramics. Little wonder his mining mates dubbed Kevin Hart "Pro", short for "Professor," because he just about knew or could do anything.
But from the White House to Buckingham Palace it is his very Australian paintings that Pro Hart is known for, forged out of growing up on a sheep station outside Broken Hill and then working in the city's famous mines.
Born in 1928, he married Raylee Tonkin in 1960 and they had five children. He sketched underground using the altered light from the carbide lamps, producing "light out of dark" paintings.
The breakthrough came with his first exhibition at Adelaide's Bonython Gallery in 1962, and he has gone onto a remarkable career capturing the essence of the bush with pictures of outback icons such as race meetings, pubs and cattle drives.
He works primarily in oils and acrylics, using layering, chiaroscuro, glazing, scumbling, scratching, Alla prima and any technique to achieve the right result, including firing paint onto the canvas from a cannon. "I don't plan it. I just melt into it," he says.
Additional information