John Henry OLSEN O.B.E., A.O. (b.1928)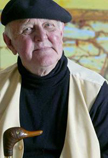 At 92 years old, John Olsen is perhaps the most senior, respected Australian artist. He paints the Australian landscape, its wildlife, larrikinism and rugged intractability.
John Olsen was born in 1928 in Newcastle, NSW. Leaving school he became a clerk and freelanced as a cartoonist. He studied under John Passmore and Geoffrey Miller, having his first major exhibition at Macquarie Galleries in Sydney.
He spent over a decade travelling and painting in Europe, mostly in Spain, where he absorbed European and Far Eastern influences. He returned to Sydney in 1968 and worked alongside artists such as Clifton Pugh, Fred Williams and Albert Tucker.
Sydney was his focus for years but in 1974 he travelled to Lake Eyre at flood and continually returns there for inspiration. Olsen calls himself a "wandering minstrel," greatly influenced and inspired by the Australian landscape. His work shows none of the European concern for scale. His loosely brushed canvases have no distinguishable fore, middle or background, and they are bought alive with light-filled, scrawly images that at the same time manage to give both a bird's eye and snake's eye view.
Among many accolades are two Wynne Prizes (1969 & 1985), an Order of Australia and an OBE for services to the Arts. His winning 2005 Archibald Prize self portrait depicts him as Janus the Roman god of doorways, passages and bridges, with two heads facing in opposite directions.
"Janus had the ability to look backwards and forwards." says Olsen, "and when you get to my age you have a hell of a lot to think about."
John Olsen's work is represented in all Australian state galleries, Canberra's National Gallery of Australia and regional galleries. He is also represented in institutional, corporate and private collections in Asia, the United Kingdom, Europe and the United States of America.
Additional information